Local 11 Bringing George Lucas' Vision to Life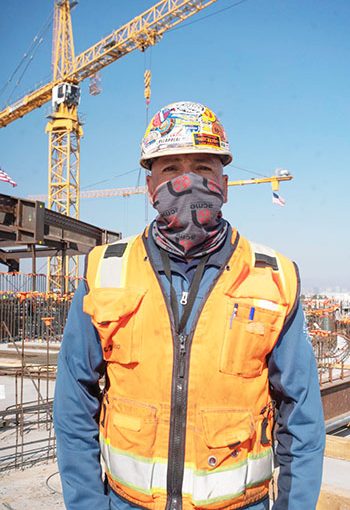 By Oren Peleg
When Casey Fillhart, 34, wakes up each morning, his two young sons routinely ask the same question "They want to know if I'm going to work on the spaceship today," Fillhart said with a laugh over the phone. "My kids think what I'm doing is super cool."
His job isn't on a spaceship—but it's close.
Fillhart, a general foreman overseeing lighting, is one of 32 union electricians who have put in more than 150,000 hours on the in-progress Lucas Museum of Narrative Art. Dreamed up by cinema legend and philanthropist George Lucas, the project will take up more than two city square blocks in the heart of Exposition Park just next to the Natural History Museum. Ground broke with IBEW 11's finest on site in March of 2018.
Previously intended for Chicago and before that San Francisco, the soon-to-be Southern California cultural landmark will include 100,000-square-feet of gallery space, state-of-the-art cinematic theaters, numerous spaces for onsite learning and engagement, restaurants, retail, and event space. Over 11 acres of new park space will surround the museum.
"This is a once-in-a-lifetime job," Lee Villarreal, said, proudly standing in front of the under-construction museum. Villarreal, who lives in San Fernando, is the project's superintendent responsible for scheduling support and prioritizing duties out to the field.
"There are lots of things on this project that haven't been done before. It's an exciting opportunity for so many of us for so many reasons," he continued.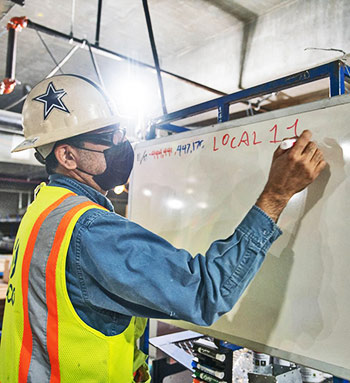 One reason the project is exciting for Villarreal is the building's revolutionary seismic crossing system. Specially-designed electrical cabling and wiring will cause the seismic isolators at the foundation to absorb shock and allow the building to sway four feet in any direction — a cutting edge earthquake precaution measure.
"It's a very unique endeavor," he said. "It's made possible with a great team of guys. We've got great chemistry together out here so it really feels like working with family."
Villarreal's team is working with over 900,000 feet of conduit and more than 2.6 million feet of wire to set up 120 different light fixture types and upwards of 16,000 feet of linear track lights. The team comprises some of the most experienced IBEW 11 members like general foreman Ed Garcia. Garcia is focusing primarily on helping install solar paneling on the curved roof, which is proving to be a challenge.
"Most installations go on flat roofs," explained Garcia, a member of Local 11 for 31 years. "This surface we're installing on is completely asymmetrical, so we have to install flat solar panels so they curve with the building. That means aligning them, tilting them and working with complex angles."
Garcia admitted that the installation process can be stressful. But the problem-solving aspect of the job is rewarding too.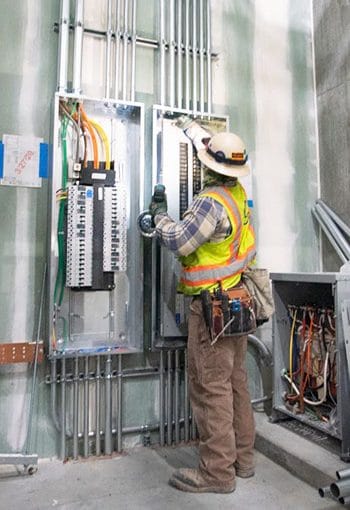 "It's all of the above," he said. "It's fun to exercise your mind and find solutions working with engineers and coordinating work at different locations. I've spent a lot of hours on it. It's something I've never done before."
For some of the younger folks on the job, being able to learn from experienced professionals has been a highlight and an opportunity.
"It seems like there's always direction," said Eric Illarramemdi, an inside wireman apprentice who has been with Local 11 for three years. "There's no faltering and even if there's an obstacle there's always a solution in a matter of minutes. The experience of the team shows when I'm working with them. I'm able to pick their brains whenever I need questions answered."
Luis Guerrero, 23, an apprentice, is taking it all in and soaking up mentorship wherever he can.
"This is the biggest job I've been on yet," he said. "I'm learning something from pretty much everyone. It's really been fascinating."
Guerrero credits Local 11 with providing direction to his life. At 15, he had his first child and he said he was determined to establish a clear career track.
"I joined the union when I was 19. I've been working ever since. It's meant a steady check, good benefits, and I can support my family," he said.