Skill, Expertise + Craftsmanship
IBEW 11 at the Torrance Refinery
By Pauline Vu
On an overcast December day, the IBEW Local 11 members employed at the Torrance Refinery were hard at work.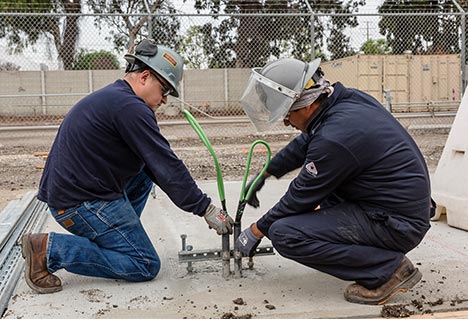 Some were working on a set of elevated laser detection systems, which would analyze the air and detect up to 15 types of gases or chemicals at the refinery's perimeter.
A larger team was upgrading the alkalization unit's security systems, so that in case of a leak, the diesel water pumps would kick on and all the cameras and fire hoses would automatically know where to point.
The wide array of projects are endless, notes Bill Caskey, an industrial division manager with MB Herzog Electric at the refinery.
"Today they're doing some controls, hooking up a transformer. Tomorrow they'll be back at grounding. The next day they'll be up overhead working the pole lines," he said. "It's quite a variety of work. Boredom never sets in."
Matthew Muñoz has been at Torrance Refinery for two years. He's a third generation Local 11 member, following in the footsteps of his great-uncle and father, who used to bring Muñoz as a boy to some of his side projects.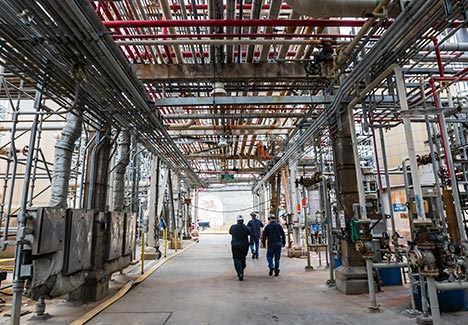 Muñoz says before working at the refinery he did a lot of in-wall work.
"So you would just bend a conduit and put it up, put up a box, bend a conduit, do repetitive stuff," the foreman said. "It's not my cup of tea."
He noted that refinery work offers plenty of opportunities to engage in his specialty, high-voltage splicing, and also allows him to work on projects where he gets to "actually put my mind to it and figure it out."
"The thing that I like to do most is the overhead," Muñoz added. "I love doing that because you're out in the open, you're up in the air. It seems like you're at peace."
Up until the 1990s, unions had a fairly strong presence at the South Bay refineries. But that decade things started to change, according to Local 11 organizer Tommy Faavae.
"You were starting to get a lot of non-union contractors coming from out of state," he said. "A lot of these parking lots back in those days, all you saw were out-of-state plates—Louisiana, New Mexico, Texas."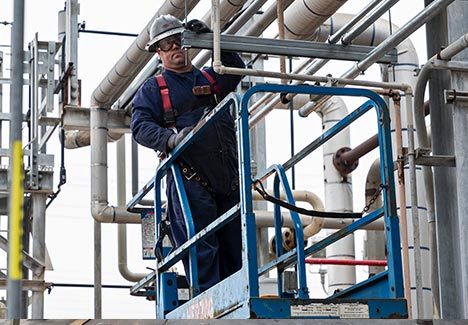 The tide turned again in 2014 after California passed SB 54, which requires that refineries ensure 60 percent of their contractors' workers are journeymen who have completed a state or federally approved apprenticeship program.
That spurred the five South Bay refineries—Torrance, Chevron in El Segundo, Marathon in Carson, and Phillips 66 and Valero in Wilmington—to sign project labor agreements in recent years that have dramatically boosted the numbers of union contractors on their campuses.
"The non-union (contractors) had a stronghold for a long time so it's taken a few years to get the owners' confidence in us doing their work," Caskey said. "But one good job at a time—they see it."
Faavae said Local 11 also undertook an organizing campaign that converted many non-union contractors to become union. He estimates there are now about 500 members working at the South Bay refineries, a huge increase from five years ago.
It helped that the work performed by union members was so consistently safe. Caskey, who has been at Torrance since 2005, said union members there have gone 15 years without a reportable.
Non-union contractors didn't manage to achieve that, he added: "The craftsmanship literally went downhill so far that it became evident that good quality work done right the first time is paramount."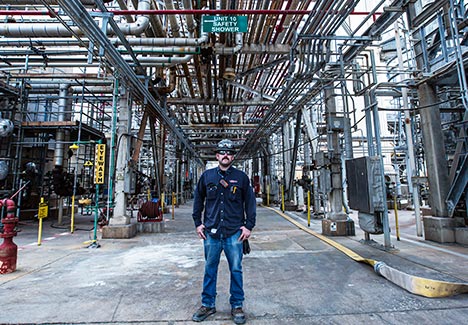 Foreman Derek Stromberg noted that skill and expertise are some of Local 11's key strengths. "We get busy out here and we can make the call in, and we always get quality guys out of the hall," he said.
Refinery work tends to be more heavy duty than commercial work. Pointing to a fiber optic termination box, Stromberg said that in a commercial job, it would just be a box. But in the refinery, the box is made of cast iron and bolted. "So that if anything exploded the components inside the box would still be intact," he said.
Torrance Refinery is apprentice Matt Brakensiek's first job. Asked his favorite part of the work, he said it was the brotherhood.
"People that are here ahead of me, the journeymen, they're always looking to teach you, make you better," he said. "It's a great trade and it's always going to be here."